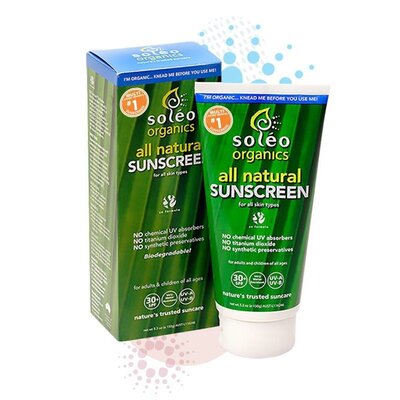 Soleo Organics
Sunscreen SPF30 80g
Organic 100% natural sunscreen SPF30 without chemicals, perfume or nanoparticles that does not give a white haze and absorbs quickly. Intensive care, long lasting water resistant, even suitable for skin problems and babies. 80g
As #1 Sunscreen rated by the EWG (Environmental Working Group.
Soleo Organics is a 100% natural biological high performance SPF 30+ with a wide spectrum, and is water resistant for 3 hours.
Use:
Soleo Organics Sunscreen SPF 30 does not contain any emulsifiers, so before use, mix the product well by squeezing the tube!
Use a little product and massage it gently into the skin. Soleo Organics absorbs quickly and leaves absolutely no white haze behind.
More about Soleo Organics Sunscreen SPF 30:

Soleo Organics 100% Natural Sunscreen
Soleo Organics is the best organic, 100% natural sunscreen for all ages and the environment!

The Soléo Difference
A formula that uses only natural ingredients according to naturopathic principles
No chemical UV filters
No synthetic preservatives
No titanium dioxide
No benzoates
No petrochemical ingredients
No fragrances
No nanoparticles
The innovative formula is quickly absorbed by the skin and does not leave a white haze. In addition, the rich nourishing biological formula prevents dehydration of the skin.
Soleo Organics is designed as an alternative to ordinary synthetic basic sunscreen products.
Soleo Organics' innovative formula is based on naturopathic principles, and is 100% free of chemical UV-absorbents, titanium dioxide, or synthetic preservatives. 
The products of Soleo Organics are an important advance in sun protection technology.  
Soleo Organics Sunscreen is water resistant, biodegradable and fragrance free. 
It is non-irritating to even the most sensitive skin and contains natural biological ingredients. 
Ideal for the body, normal to dry facial skin, and is also very suitable for babies and eczema.
Soleo Organics is a high performance wide spectrum SPF 30+, and is water resistant for 3 hours.
Active Ingredients:
Zinc Oxide 22.3% (active ingredient)
Vitis vinifera seed oil (grapeseed)
Helianthus annus seed oil (Sunflower)
Capric/caprylic triglyceride
Vegetable Oils
Candellia Cera
Cera alba (beeswax)
Camellia sinesis leaf extract (green tea)
Anthemis noblis flower extract (novel chamomile)
Lecithin Carthamis tinctorius seed oil (safflower)
Cucumis sativus fruit extract (cucumber)
Natural Vitamin E