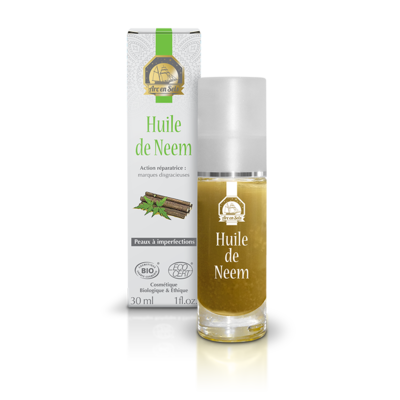 Arc en Sels
Organic Take Oil
Availability:

Out of stock
100% Organic Neem Oil (Ayurvedic remedy) is antifungal and anti-inflammatory, soothing and calming and effectively fights parasites and effective against irritation, rashes, acne, blackheads, main rose, skin infections. 30ml
Properties
The Neem tree grows in India and can grow up to 30 meters high and 2 meters thick and is called the 'divine tree' in Ayurveda. Neem Oil is pressed from the seeds, which is used for many remedies and in many Ayurvedic recipes.
This cold-pressed fairtrade organic Neem Oil is antifungal, anti-infective and antiparasitic.
Very beneficial excess sebum in dilated pores, fights blackheads and main rose, and soothes skin irritation, rash and acne.
In addition, Neem Oil combats parasites such as ticks, mites and lice.
 
Use
Face
Organic Take Oil is anti-inflammatory and soothes acne, rash and skin irritation. 
Add a drop of Neem to the facial cream to reduce excess sebum on enlarged pores and blackheads.
Body
Massage Take Oil into the skin for skin problems, acne, fungal infections and parasites.
Scalp and hair
Take Oil is very effective in controlling parasites such as lice, ticks, mites, fleas and the like.
Add to the shampoo a little Neem Oil to prevent skin diseases and insects, even in pets!
Origin
This organic Neem Oil is produced with respect for the environment in India. 
Arc en Sels buys this oil on the basis of equal (fairtrade) trade principles.
Certified by Ecocert Greenlife
Inci: Melia Azadirachta Seed Oil**
* Ingredient of organic farming
** Ingredient coming from fair trade (India)
100% of the total ingredients are from natural origin
100% of the total ingredients are from Organic Farming
100% of the total ingredients come from fair trade.